We are a charity (Charity Reg No. 281810) providing boxing training and other leisure time pursuits to children and adults in the interest of social welfare so as to improve the physical and mental health for those people. We also provide Mentoring programmes offering support to disadvantaged young people and families at risk or directly involved in youth violence and crime, working closely with local authorities and local services including youth offending and social care.
We challenge and work to remove barriers which block young people's healthy development and growth, encouraging young people, whatever their ability, to participate in the activities of the Club and become active members, teaching them skills and giving them a sense of worth, helping them to fully integrate with all sections of society and be better able to cope with the challenges of modern life.
All money raised goes back into running the club and involving as many children and people in the community as possible.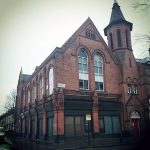 Since being established in 1974, by Mr. Isola Akay MBE, All Stars has become an institution within the local community, and continues to dedicate itself to helping young boys and girls of all ages and backgrounds learn the focus, discipline and hard work that comes with boxing. Some of these children have gone on to be champions and instructors themselves.
Housed in an iconic Grade 2 listed former Church situated in Queens Park, an ethnically and economically diverse area of West London, All Stars rely on the support of volunteers, the contribution of club member subs, proceeds from boxing shows and donations to enable us to continue doing the good works which we do.
Charity Registration No. 281810